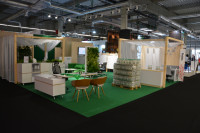 Warsaw Home 2019
On 3-6.10.2019 in Ptak Expo halls Warsaw Home 2019 took place. We had the opportunity to take part in this event. At our stand we conducted a campaign promoting the Health to Office system with the use of water with an interactive label.
For this purpose, the VR system and the Viuu application were used, with the help of which the user, after driving his phone over a bottle of water, watched a promotional spot of the H2O system. This aroused a lot of interest among visitors.
Warsaw Home Fair is one of the biggest events in Central and Eastern Europe.
Copyright © 2018 TOBO Datczuk General Parentship