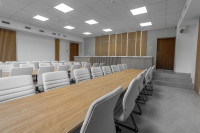 Forest district in Supraśl
Recently we had the pleasure to equip furniture for the Forest District in Supraśl. It was one of the most beautiful projects we have ever had the opportunity to complete. Making diagonal slats was quite a challenge for us. How do you like it? Judge for yourself. Below is a photo report.
Aby poznać więcej szczegółów dotyczących naszej oferty skontaktuj się z naszym doradcą.
Doradca Klienta
Beata Mikucka
+48 662 055 425
lp.obot@oruib :liam-e
Firma TOBO jest producentem mebli w kategoriach:
Meble biurowe
Meble domowe
Mele hotelowe
Mele kuchenne
Posiadamy największy salon mebli i krzeseł biurowych w Polsce wschodniej. Oferujemy krzesła, fotele obrotowye, sofy oraz meble metalowe polskich i zagranicznych producentów.
Copyright © 2018 TOBO Datczuk General Parentship