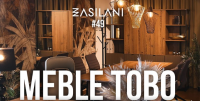 Meble TOBO i Zasilani #49
Meble to nie tylko przedmioty użytkowe w naszych domach czy biurach, to także elementy, które wpływają na nasze codzienne samopoczucie i zdrowie.
Magda i Petros w kolejnej wyprawie #Zasilanych poszukując mebli idealnych, trafili do ich królestwa - firmy Meble TOBO, która już od 25 lat oferuje nowoczesne i ergonomiczne rozwiązania, integrując estetykę z funkcjonalnością i szczególną troską o kręgosłup. O działalności firmy opowiedziała prezes Bożena Datczuk.
Firma TOBO stawia na innowacje i usprawianie procesów produkcji. To laureat Podlaskiej Marki w kategorii Projekt 4.0!- takie informacje dostarcza odcinek 49 programu #Zasilani.
Copyright © 2018 TOBO Datczuk General Parentship