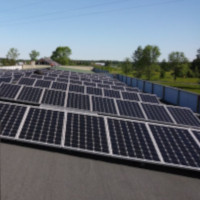 TOBO INVESTS IN ECOLOGICAL TECHNOLOGIES - OZE
We are pleased to inform you, that in February 2019 on the roof of our production hall photovoltaic panels were installed.
Photovoltaics as a renewable source of energy, besides being economic, ecological and a stable investment, has many other benefits. Solar energy is renewable and cannot be missing. It is a clean energy source, because solar panels do not emit pollutants and are recyclable. Solar energy is produced silently, so it is ideal for urban areas.
In addition to solar panels, a heat pump was also installed in our company in April 2019.
The investment was carried out as part of an EU project: "OZE installations for the company's own needs TOBO Sp. j.".
Copyright © 2018 TOBO Datczuk General Parentship