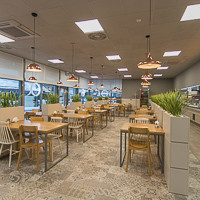 TOBO FURNITURE IN THE BAR ZODIAK PSS SPOŁEM IN BIALYSTOK
New Zodiak Pss Społem Bar in Bialystok already opened. We have equipped this facility with furniture and chairs.
Aby poznać więcej szczegółów dotyczących naszej oferty skontaktuj się z naszym doradcą.
Doradca Klienta
Beata Mikucka
+48 662 055 425
lp.obot@oruib :liam-e
Firma TOBO jest producentem mebli w kategoriach:
Meble biurowe
Meble domowe
Mele hotelowe
Mele kuchenne
Posiadamy największy salon mebli i krzeseł biurowych w Polsce wschodniej. Oferujemy krzesła, fotele obrotowye, sofy oraz meble metalowe polskich i zagranicznych producentów.
Copyright © 2018 TOBO Datczuk General Parentship